Athena Hall is the on-campus halls of residence at the Ipswich campus. Although it is built on land owned by the University of Suffolk, the building is privately owned and managed. Athena Hall was built to accreditation standards with advice from the University of Suffolk's Accommodation Manager.
This property is available to students in any year of study but may be of particular interest to:
Students studying at the University of Suffolk for the first time,
First-time renters moving out of the parental home,
Students new to Ipswich and not familiar with the area.
Athena Hall is just 300 metres from the Waterfront Building on the Ipswich Waterfront and next to the James Hehir Building. Local shops and amenities are close by and the town centre is just a 10-minute walk away. The main Ipswich train station is approximately a 20-minute walk.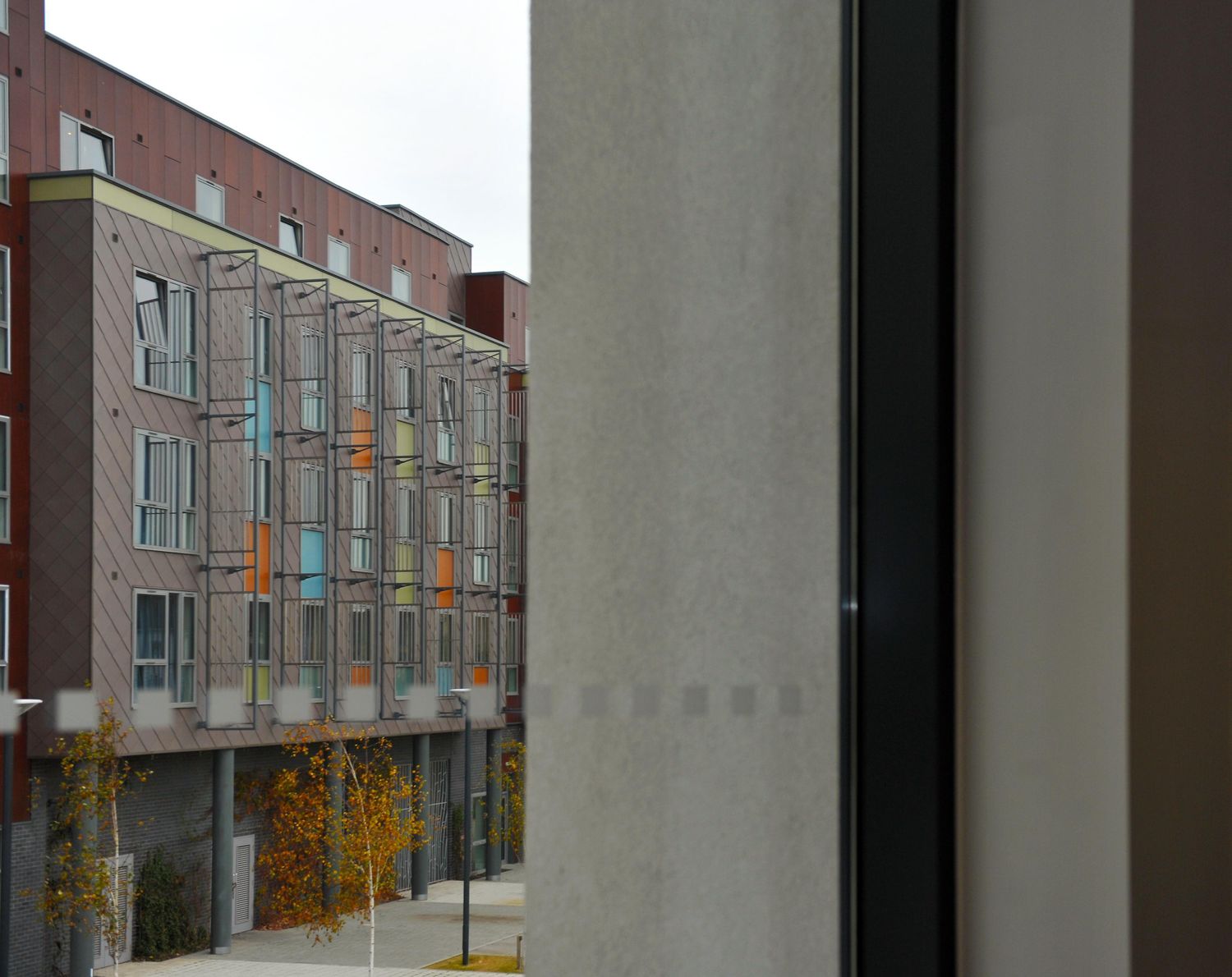 With 590 bed spaces, Athena Hall offers a mixture of cluster flats and studio rooms. In addition to the information below, further details including a sample tenancy agreement are available on Collegiate AC's website.
Cluster flats — between 4-7 bedroom flats with a communal kitchen/common room. Each single occupancy bedroom is lockable and is ensuite with a lavatory, hand basin and shower cubicle. Rooms are furnished with a ¾ sized double bed, wardrobe, chest of drawers, desk and chair, shelving units and curtains or window blind. The kitchen contains a fridge/freezer, oven, microwave and sink, along with ample cupboard space. There is also a breakfast bar with stools and a lounge area with sofas. Single sex flats may be available, subject to demand. Rooms are classified as Bronze (smallest), Silver (medium) and Gold (largest).
Studio rooms — available for one mature student or a student couple. Furniture includes a double bed, wardrobe, desk and chair, shelving units and curtains, sofa and coffee table. The ensuite is the same as detailed above. The kitchenette contains a fridge with freezer compartment, microwave oven, two ring hob, sink and breakfast bar with stools.
Athena Hall also has a large common room for social events and a self-service laundry room on site.
There are no car parking facilities available at Athena Hall for residents; students requiring car parking would be advised to make their own car parking arrangements elsewhere or to consider alternative accommodation with parking facilities if they require their car to get to a placement as part of their course. The University of Suffolk parking permit is for students (and staff) commuting in daily; students living in Athena Hall should not be parking their car in the University, the Wharf or Athena Hall car parks.
Facilities
Self-catered
All ensuite rooms
Utility bills and WiFi included in the rent
Studio rooms available for student couples or mature students
42, 48 and 50 week tenancies available, including Christmas and Easter periods
Fob security to the building, key entry to flat and bedroom/studio.
Staff are on duty on-site during normal office hours; Security or hall wardens are available on-site outside of normal office hours. (check with Athena Hall)
Kitchen facilities shared with no more than 5 people
TV license required for any of your own devices you use to watch TV as it is broadcast or BBC iPlayer
Bike storage
Smoking is not permitted inside the building
Parking is not available at this building for residents
Room Type
Tenancy Length
Weekly Rental
Total Rental

Bronze Ensuite

44 weeks




49 weeks




51 weeks

£143.00
£141.00
£139.00

£6,292.00




£6,909.00




£7,089.00

Silver Ensuite

44 weeks




49 weeks




51 weeks

£163.00
£153.00
£153.00

£7,172.00




£7,497.00




£7,803.00

Gold Ensuite

44 weeks




49 weeks




51 weeks

£170.00
£162.00
£160.00

£

7,480.00
£7,938.40
£8,160.00

Studio Ensuite

49 weeks




51 weeks

£206.00
£205.00

£10,094.00




£10,455.00
Reservation Rent (paid at time of booking) on all rooms: £100, which will be deducted from the first rental instalment.
All prices above are inclusive of utility bills, internet access and contents insurance. Prices shown are for the 2024–2025 academic year for tenancies starting in September 2024. For other start dates in 2023–2024 please contact Collegiate AC direct to enquire.
The first rent instalment is payable in advance of moving into the accommodation; this will likely be before you receive your first student finance payment and it is therefore advisable to save for this payment via methods other than relying on student finance. Most students will pay termly; speak to Collegiate AC if you wish to see if you can pay monthly — charges may apply.
A sample tenancy agreement and booking terms and conditions can be found on Collegiate AC's website. We strongly recommend you read these before committing to a tenancy agreement.
Athena Hall is managed by the management company Collegiate AC. If you are intending to take accommodation at Athena Hall, you will be required to sign up to a tenancy agreement with Collegiate AC. There is no legal connection with the University of Suffolk. It is your responsibility to understand and agree/sign the tenancy agreement and to determine the suitability of the accommodation depending on your needs and your ability to pay the rent. You should not sign a tenancy agreement with any accommodation provider until you are completely happy with your choice.
The information provided is purely for guidance. All tenancy details should be discussed direct with the accommodation provider.
Please check the cancellation policy with Collegiate AC before committing to a room, this should advise what will happen if you book a room and wish to cancel it. Check if you will be released from the tenancy agreement if you do not meet the conditions of your offer at the University of Suffolk; please note it might not be possible to cancel if you decide you no longer wish to live there or have secured a place at a different university. For this reason, you are advised to only book once you are certain you have made the right choice for you. If you are selecting the University of Suffolk as your insurance choice, you are advised not to book a room unless you decide to study here.
If you are bringing a TV set or watching TV as it is broadcast on any device include a laptop or mobile phone, you will require your own TV licence. This includes downloading or watching BBC programmes on demand — including catch up TV — on BBC iPlayer. For more information please see the TV Licensing website.
This property is not suitable for families with children. Pets are not permitted in the accommodation. Smoking is not permitted inside the accommodation. Parking facilities are not available for residents.
Collegiate AC manages this property, independently of the University of Suffolk. Please contact them direct for any additional information you require or questions you may have about their property or tenancy agreement. You can also make arrangements to view the building with Collegiate AC.
To book a tenancy for a course starting in September, please see the Collegiate AC website for available options. For courses starting at any other time of year or for tenancies starting part way through the course please call or email Collegiate AC direct to enquire.
Please make sure you read the booking terms and conditions, and sample tenancy agreement on Collegiate AC's website carefully before you book a room.
Not sure if Athena Hall is for you? Visit the Accommodation Advice section to learn more about the other accommodation we recommend.
Landlords/managing agents of recommended and accredited accommodation may need to confirm with the University of Suffolk your applicant/student status before offering you a tenancy, and similarly to confirm continued student status throughout the term of your tenancy agreement. By choosing to live in this property you are agreeing to this exchange of information taking place.
By taking out a tenancy in recommended and accredited accommodation you will also be agreeing to allow the University of Suffolk to request student occupancy details from the landlords/managing agents for the purpose of producing statistical analysis reports.