Students Launch Social Enterprises after Boot Camp win
---
Date

21 July 2023

Time to read

4 minute read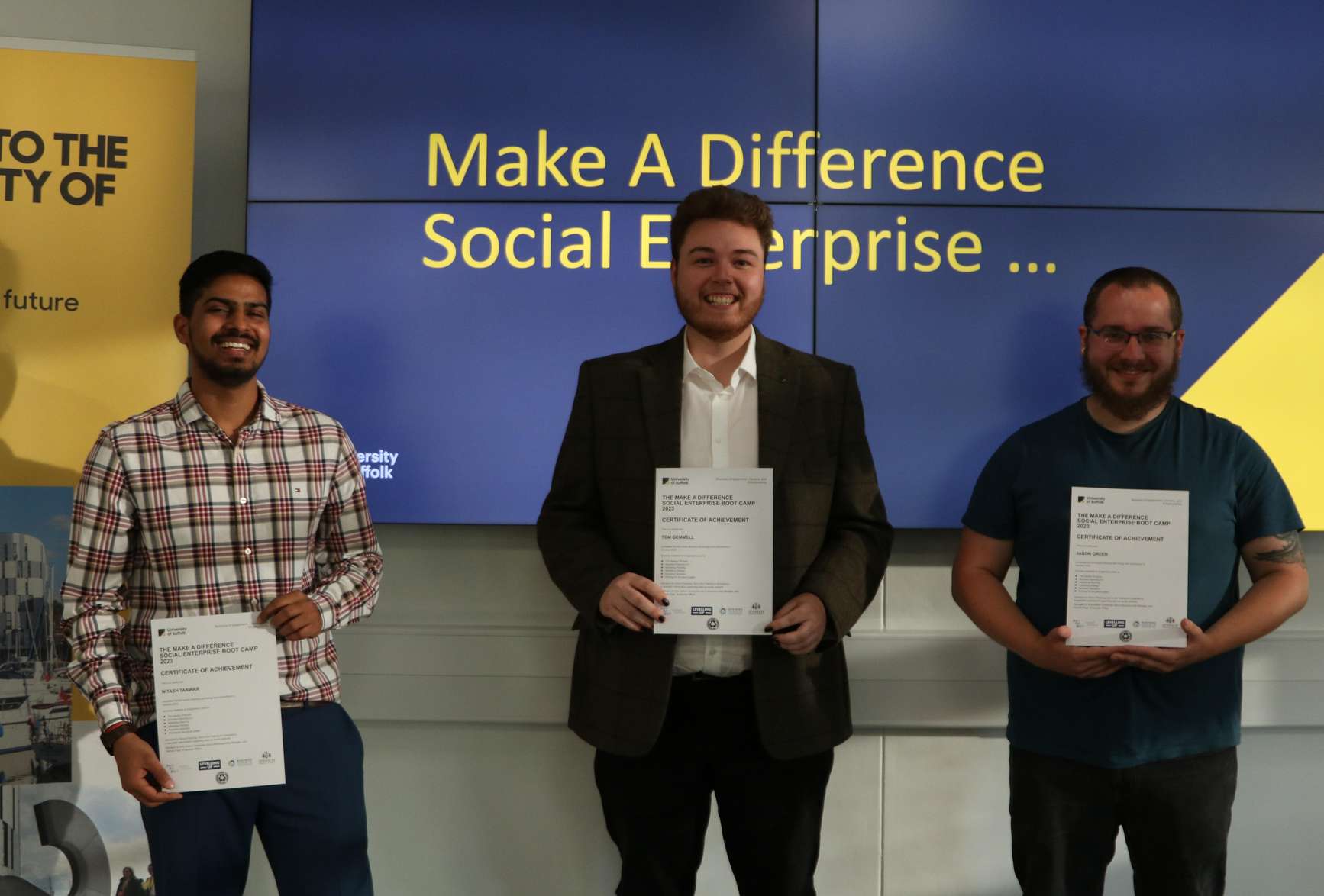 An innovative boot camp held over five weeks at the University of Suffolk has helped students launch their new social enterprises, with the backing of £2,000 grant funding.
The Make A Difference (MAD) Social Enterprise Boot Camp, co-funded by Ipswich Borough Council and the Business Growth Coaches Network (BGCN), guided aspiring social entrepreneurs through dedicated workshops in June and July to come up with their business ideas, shaping their enterprises with key sessions on areas such as preparing marketing plans, business planning, pitching and solving problems.
Around 20 students were involved through the project, the second year it has been held following a successful inaugural year in 2022, culminating in 10 pitches at the final 'pitch to the panel' event at The Atrium this month.
Two winning pitches were selected by the panel, each securing £1,000 in micro-grant funding to kickstart their enterprises.
Jason Green and Tom Gemmell won with Gameify Life, a task management app featuring personalised chatbot assistants to help people hit their goals with a customisable game-like appearance to make it more immersive.
Jason said: "The MAD Boot Camp, with its professional-led sessions encompassing both social and business aspects of social enterprises, proved instrumental in refining our company's goals and aligning our project with our overarching vision.
"It provided valuable focus, granting me a comprehensive understanding of the intricacies involved in running a business and illuminating the necessary steps for future success."
Meanwhile Nitesh Tanwar's winning enterprise InfiVolt uses innovation to tackle the challenges around energy supply by utilising sustainable kinetic energy sources.
Nitesh said: "Our mission at InfiVolt is to revolutionise the way we generate and access electricity. With our innovative equipment, we aim to bridge the gap in energy supply and empower communities around the world."
Amy Volkert, Enterprise and Entrepreneurship Manager in the University of Suffolk's Careers, Employability and Enterprise team, said:
"It's great to see how people are now challenging the social norms, demonstrating how they can make a positive impact when they merge their passion with business to make a real difference in the community.
"It is so rewarding to support and work with individuals and businesses who collectively value the environment, health and wellbeing, sustainability and tackling poverty, to make Ipswich a more inclusive and prosperous area for all."
Simon Pickering, Director of Dot to Dot Training & Consulting, which helped deliver the programme, said:
"The MAD Boot Camp is a brilliant opportunity to support Ipswich and Suffolk based social entrepreneurs and social ventures.
"The programme provided unique learning and development opportunities for all the participants, and it's been a fantastic cohort of social entrepreneurs with a real breadth of backgrounds, experiences and expertise."
Professor Gurpreet Jagpal, Pro Vice-Chancellor Business and Entrepreneurship at the University of Suffolk, said: "The Make a Difference Social Enterprise Boot Camp provides a fantastic opportunity for budding social entrepreneurs to test and validate their ideas and secure up to £2,000 in grant funding to take their social enterprise to the next stage.
"Social enterprise and entrepreneurship is a key area of focus at the University of Suffolk and we are hugely grateful for the support of our partners for their support to grow our offer and support even more entrepreneurs in the region."
The social enterprise boot camp will return in October and November, as part of a full calendar of enterprise and entrepreneurship events, workshops and masterclasses planned for the 2023/24 academic year.
Visit the website here for future updates and more information: Enterprise and Entrepreneurship