Bumblebees increasingly stressed by changes in climate
Signatures of increasing environmental stress in bumblebee wings over the past century: Insights from museum specimens
Researcher: Dr Andres Arce
School of Technology, Business and Art
Observing how climate impacts species is crucial to understanding how climate change will affect natural populations of insect pollinators that play a vital part in sustaining the natural world.
Dr Andres Arce, alongside a group of researchers, identified that wetter and hotter climate conditions were more likely to lead to wing asymmetry, an indicator of developmental stress in bumblebees. This research, facilitated by natural history collections, allows us to understand when and how bumblebees have historically responded to stress, which, in turn, is crucial for planning future conservative action.
The research was funded by the Natural Environment Research Council (NERC) and is a collaborative project between Imperial College London, the Natural History Museum London, National Museums Scotland, Oxford University Museum of Natural History, World Museum Liverpool, and Tullie House Museum Carlisle.
Figure 1: Digitised specimen (female Bombus hortorum). (a) Dorsal image of a pinned specimen. (b) Close-up of the right forewing showing the homologous wing vein landmark numbers (white boxes used for visual purposes). (from Arce et al, 2022).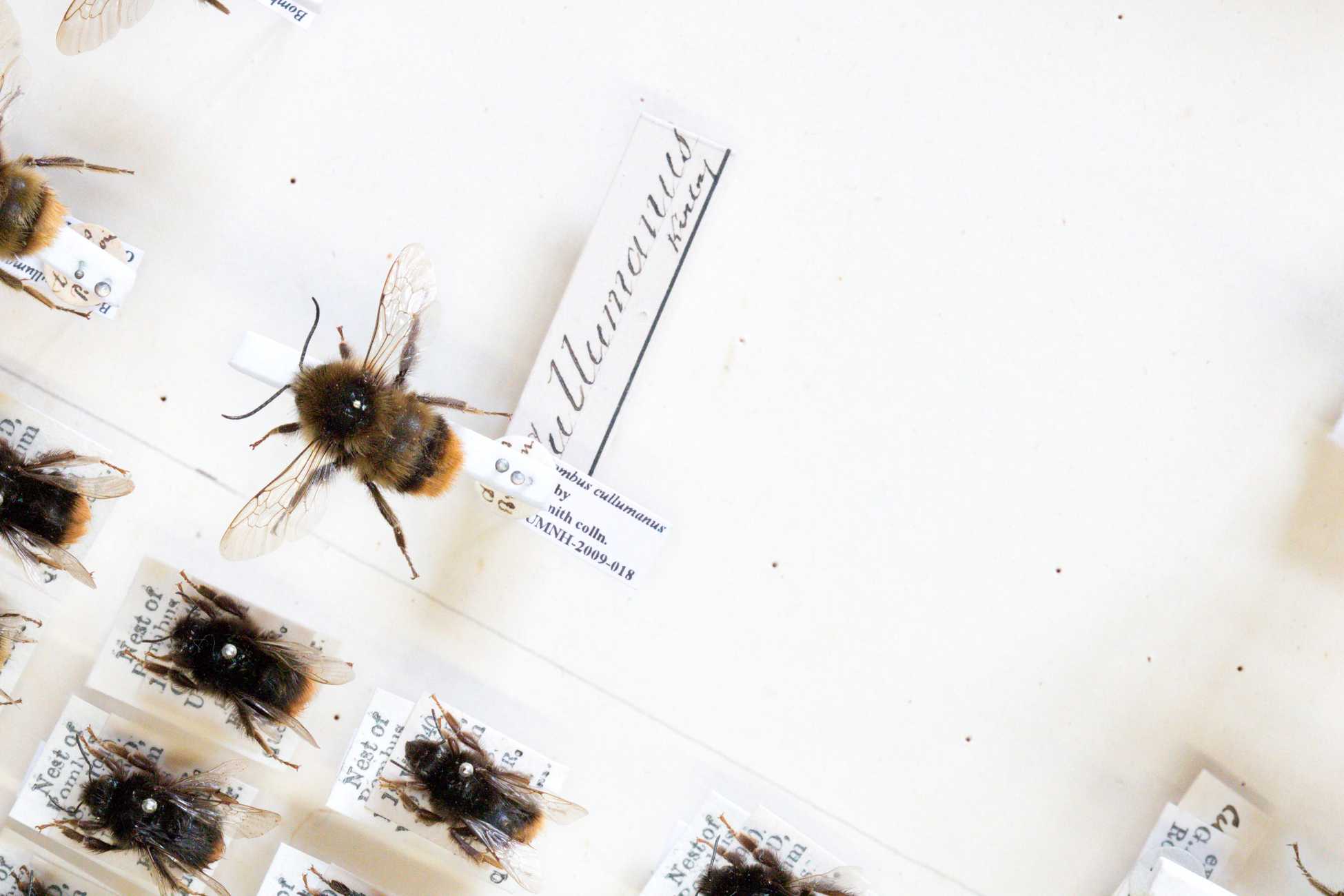 Arce, A. N., Cantwell-Jones, A., Tansley, M., Barnes, I., Brace, S., Mullin, V. E., Notton, D., Ollerton, J., Eatough, E., Rhodes, M. W., Bian, X., Hogan, J., Hunter, T., Jackson, S., Whiffin, A., Blagoderov, V., Broad, G., Judd, S., Kokkini, P., Livermore, L., … Gill, R. J. (2022). Signatures of increasing environmental stress in bumblebee wings over the past century: Insights from museum specimens. The Journal of animal ecology. Advance online publication. Read more
Mullin, V. E., Stephen, W., Arce, A. N., Nash, W., Raine, C., Notton, D. G., ... & Barnes, I. (2022). First large‐scale quantification study of DNA preservation in insects from natural history collections using genome‐wide sequencing. Methods in Ecology and Evolution. Read more