University secures Silver in 2023 TEF ratings
---
Date

28 September 2023

Time to read

4 minute read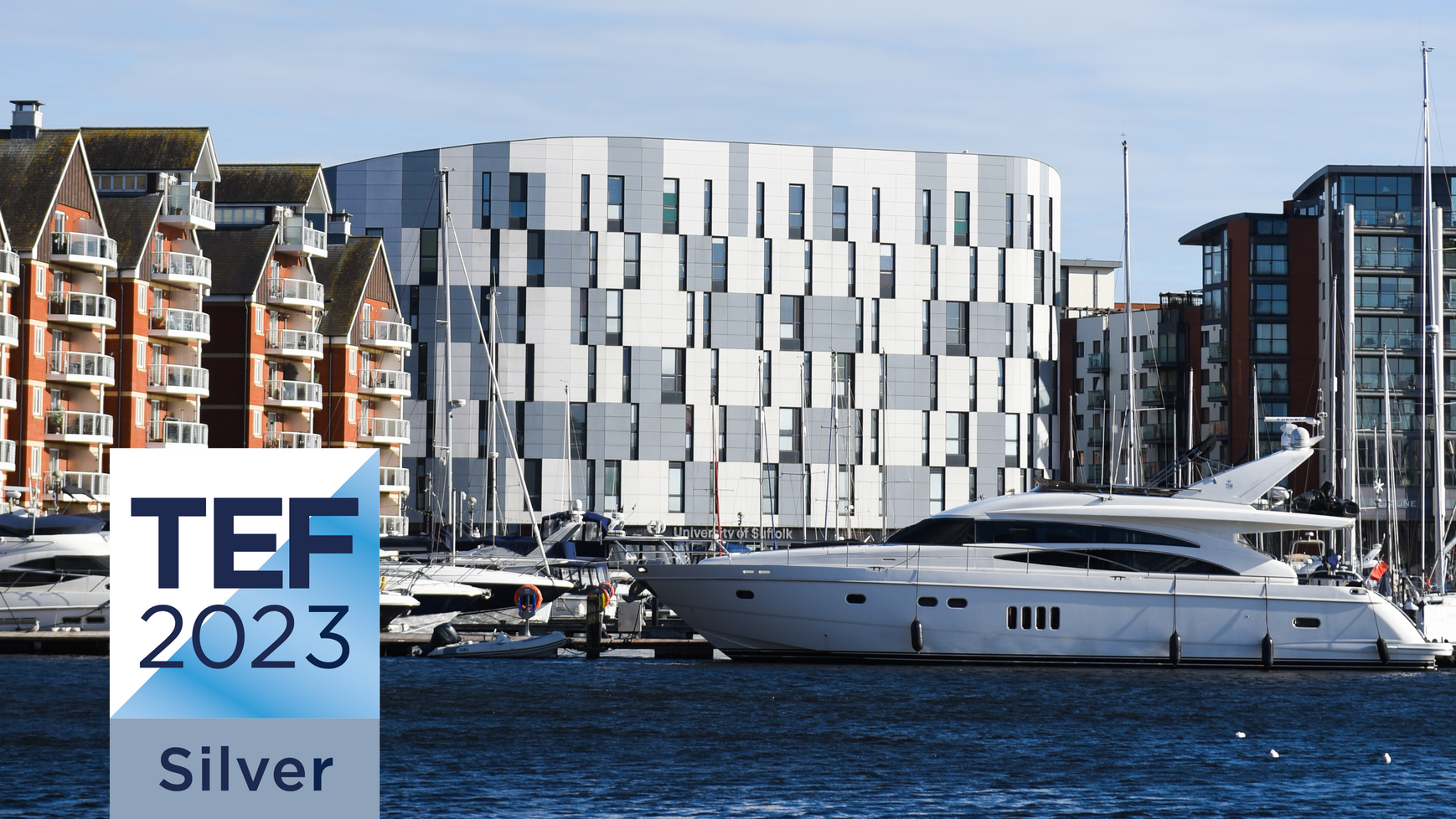 The University of Suffolk has secured a Silver rating in the 2023 Teaching Excellence Framework (TEF) – a national benchmark for quality of teaching, learning and student outcomes.
The TEF assesses universities for their excellence above a minimum set of requirements in quality and standards, with universities awarded a Gold, Silver, Bronze or Requires Improvement rating.
The University scored the Silver rating, published today, in both the Student Experience and Student Outcomes categories, with a Silver overall grade too.
It marks an upgrade on the Bronze rating the University scored at its last assessment in 2017 – its first as an independent university, demonstrating the continued upward trajectory it has been on.
The TEF panel statement said that the University has "embedded very high quality teaching, feedback and assessment practices that are effective in supporting its students' learning, progression and attainment".
It continued that the University of Suffolk fosters a "supportive learning environment" and used its research fields and employer engagement to contribute to "a very high quality academic experience for its students".
The panel statement said that there was outstanding quality in course content and delivery to inspire students to engage in their learning, and develop their knowledge and skills to their fullest potential.
On the Student Experience, the panel found the University effectively supports students to succeed and progress beyond their studies, and noted the "outstanding rates of successful progression" for students.
Since 2020, the University has used a highly effective Block and Blend approach to learning, which allows students to focus on individual aspects of the curriculum as single modules at a time, delivered through a blend of in-person and online teaching, allowing students the flexibility to control their learning.
It follows a host of successes for the University in recent months, which has included climbing 20 places in the latest Complete University Guide, and strong performances in the Guardian, Sunday Times and Daily Mail university guides.
In addition, Higher Education Statistics Agency data from the spring highlighted the 85.71 per cent positive outcomes rating for undergraduate students, while 'quality of work' measures saw the University topping the list nationally.
Carbon reduction data published by the HESA in the summer also revealed that the University of Suffolk had cut Scope 1 and 2 carbon emissions by 64 per cent between 2015/16 and 2021/22 – the biggest decrease out of 119 universities.
Professor Helen Langton, Vice-Chancellor and chief executive of the University of Suffolk, said:
"The Silver TEF rating is a testament to the hard work of our staff and students since 2017. We know our students value highly the excellent teaching and employer links their courses offer, and we know that our graduates achieve fantastic outcomes upon completing their studies.
"The Silver TEF rating recognises these achievements, and we will strive to continue making the experiences and outcomes of our students even better."