Health Students Share Their Stories to Mark NHS 75th Anniversary
---
Date

5 July 2023

Time to read

5 minute read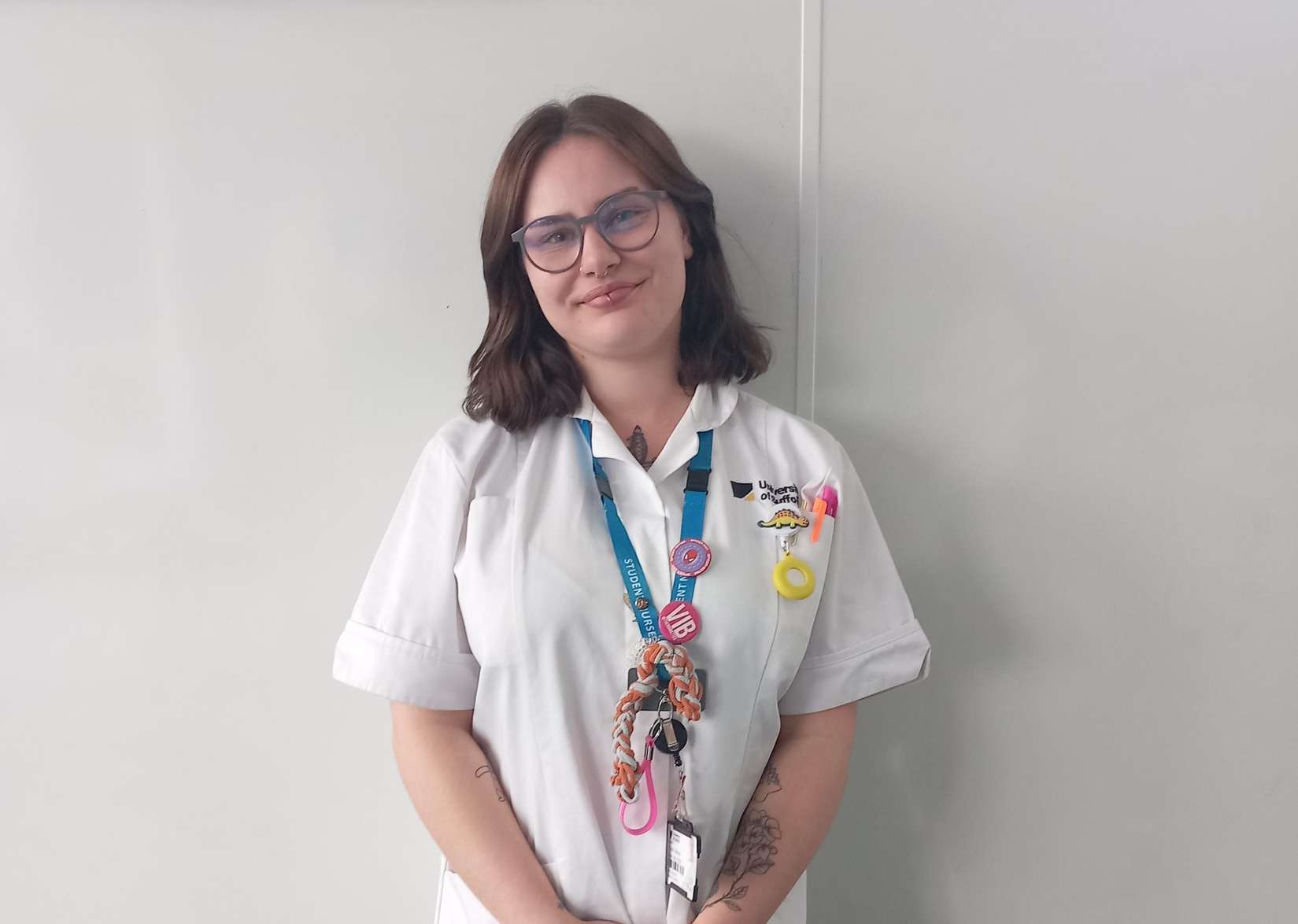 Students on health courses at the University of Suffolk have shared their stories of why they are pursuing NHS careers as the National Health Service marks its 75th anniversary this week.
Around 1,500 students study health and social care courses at the University's Ipswich campus, with the University working with major NHS health and social care employers across the region, including acute hospital wards, GP surgeries, pharmacies and community care providers among others.
Lucila Camilo, 45, is a final year BSc Adult Nursing student currently on placement with district nurses in Felixstowe. She was inspired to pursue an NHS career after the life-saving treatment she received.
In 2018 she was diagnosed with bowel cancer while pregnant with her son Tiago. A colostomy procedure followed along with treatment for the cancer, which set her on the path to train as a nurse.
Lucila said: "I can sympathise with patients so much because I have been a patient as well. I have been in a position with loads of questions and doubts and uncertainties, but when we have proper support and care it makes all the difference.
"I would never be able to give back what I received but I want to provide people with good care."
As Lucila nears her graduation, she has already been offered a job as a community nurse in Felixstowe for when she completes her studies at the end of this month.
"I am so proud to be a part of it, even as a student. When you are out in practice patients see you as a member of staff, and now with a job offer I feel so lucky.
"It is a nice team who like to support newly qualified nurses, and this is really important for me because it is all about confidence and knowing I have a good team to back me up."
Tanith Holmes is a second year adult nursing student, and also had a very personal reason for pursuing a career in the NHS.
She said: "My dad died when I was 14 from cancer, and I looked after him quite a bit when he was ill. It really pushed me to realise that looking after people was my passion, and I want to prevent people from feeling how I felt. They need someone to understand and I have given that to a lot of people. That can change someone's life. They are able to see they aren't alone."
Tanith, 20, has worked on placements at Ipswich Hospital and Felixstowe Community Hospital, and is eyeing a career as a community nurse in NHS sexual health services. But Tanith says the broad range of skills she has learnt and the rotations at her placements have helped her build up a wealth of experience, and feels proud to go to work every day.
She said: "You can feel good about yourself going home and looking back on the day, and knowing that you did a good thing, even if you cried. And sometimes it isn't just caring for them, sometimes it is just giving them your time."
Tara Smith is a second year BSc (Hons) Therapeutic Radiography student, and opted to change career from marketing and product management in the biomedical sciences industry.
"All my family work in the NHS, and I was reflecting on what I wanted to do career-wise. I knew I wanted a change and do something more patient facing but still work in technology.
"With radiotherapy we get to follow the patients, see them every day and get to know them quite well. It is very rewarding when you see them finish their treatment."
As a healthcare role with a recognised shortage nationally, bursary support is available which has been invaluable for Tara to be able to retrain. She is based at Colchester Hospital for her placements, where she undertakes different rotations in the department.
Tara said: "I feel a sense of pride when I get home after a day on placement, and it is easy to get up in the morning for a job I enjoy. Radiotherapy is such a great career in my opinion because you get to work with some amazing technology in a patient-facing role. The technology is always evolving too, which keeps it interesting, such as developments in AI and new treatment techniques. I think it's a really exciting time to be working in radiotherapy."
Health and social care courses are among the biggest at the University, with numbers on those courses having grown by around 40 per cent since the University became independent in 2016. Plans to expand those numbers further are in the pipeline.
In addition, the University has opened a new £13 million Health and Wellbeing Building featuring industry-standard equipment for training future healthcare professionals.
It includes a radiography and x-ray suite, two hospital wards, birthing and midwifery unit, simulation space and a community flat so that learners can work on true-to-life scenarios.
Dr Paul Driscoll-Evans, Pro-Vice Chancellor for Health and Wellbeing, said: "We are proud of the high quality teaching and excellent facilities we offer at the University of Suffolk to ensure our future NHS workers are ready to treat patients from day one in their careers.
"The innovative technology and industry partnerships we have forged with NHS trusts ensures our students graduate with all the skills they need for a successful career in health and social care."
For those considering a health course at the University and pursuing a career in the health service, both Lucila, Tanith and Tara are unequivocal.
Lucila said: "Just go for it. It is hard work, long hours on placement, lots to study, but if you are passionate about helping people and want to become a nurse just go for it – it is very rewarding."
To find out more about health courses at the University of Suffolk, visit www.uos.ac.uk