Art Students Showcase Work at 2023 exhibition
---
Date

14 February 2023

Time to read

3 minute read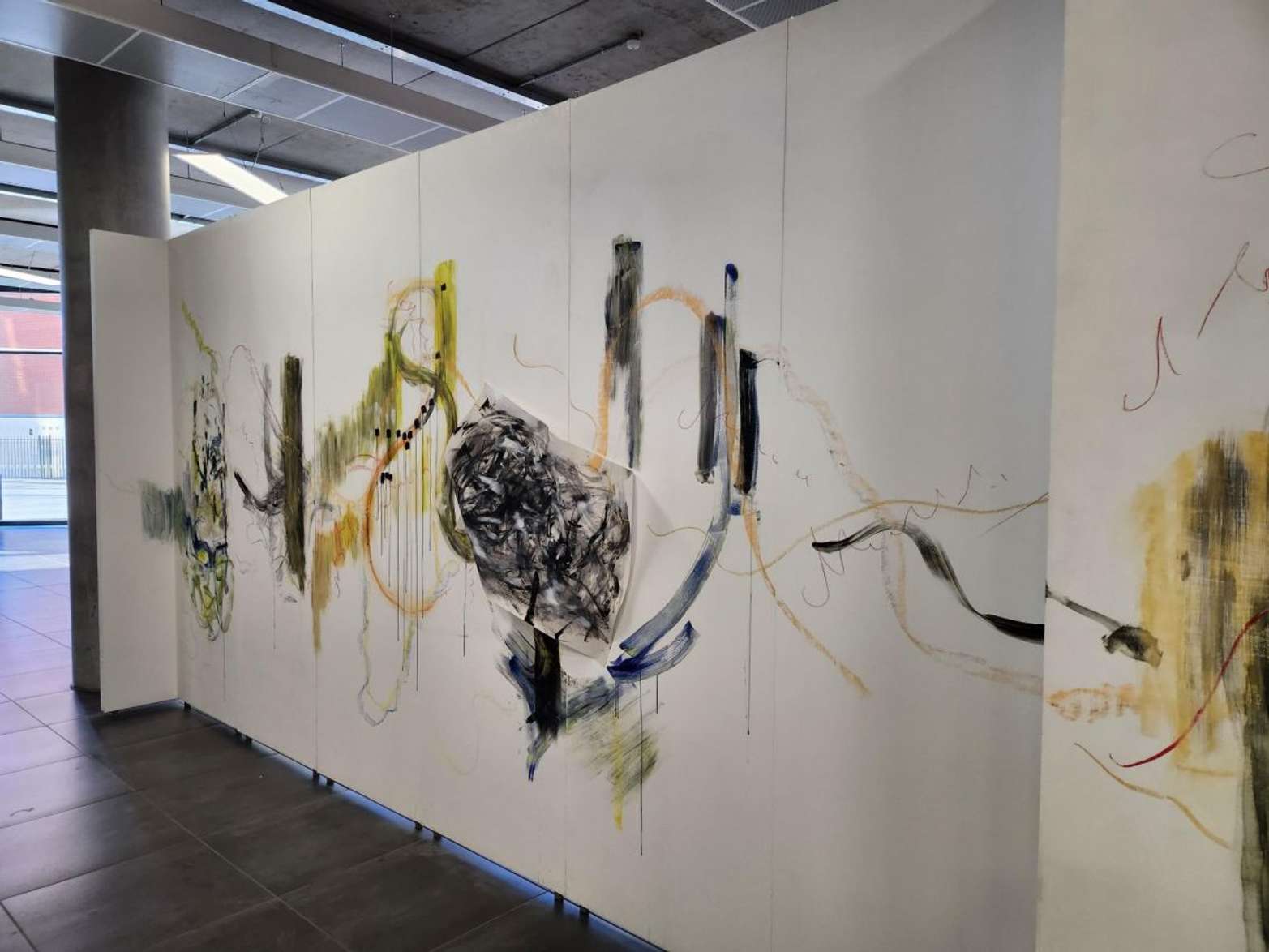 Fine Art students at the University of Suffolk have opened their interim 2023 exhibition, Equilibrium, a precursor to their end of year show.
The students, in their final year of the university's BA (Hons) Fine Art degree have taken over the Waterfront building's foyer to showcase their work which includes small and largescale drawing, painting, multi-sensory installation and sculpture.
Their work includes meditations on landscape, the natural world, memory, cinematic narrative, perceptions and misconceptions of different abilities.
Equilibrium is open to the public Monday to Friday 10am to 4pm until 23 February.
Among those exhibiting is Emmalene Maguire who was inspired to create her artwork by an old photo album.
"For this exhibition I took inspiration from childhood memories and considered how these have been distorted by the passage of time.
"I used meditative mark making and the elemental energy of fire painting to describe my response to these images as a mature woman.
"I am hoping to progress to a Masters in children's illustration for my future practice. "
Fellow student, Pippa Worthington paints on canvas and subjects include local views and wildlife.
"My current work features scenery and wildlife from close to the sea, reflecting the way in which the oceans connect people and places across vast distances.
"In the near future I am planning to continue exploring this theme from other coastal areas around the world."
Kay Parker takes her inspiration from the organic forms and textures of the natural world.
"My inspiration comes from the amalgamation of place, energy and the natural elements, capturing a moment in time to expose the visual magic of impact of rain, or the dance of the wind on canvas."
Dr Jane Watt, Senior Lecturer in Fine Art, said: "I am thrilled that our final year students are showcasing their work to the wider University and local community.
"It is a great opportunity to celebrate their creativity; they have all created really ambitious and thought-provoking work that challenges perceptions of the world, including work to transform this impressive space.
"It is such a great learning and professional opportunity for our students who have not only made stunning sculptures, paintings and installations, but have collaborated to curate the exhibition, designed and printed a stunning brochure."