University's Legal Advice Centre Highly Commended
---
Date

2 May 2023

Time to read

3 minute read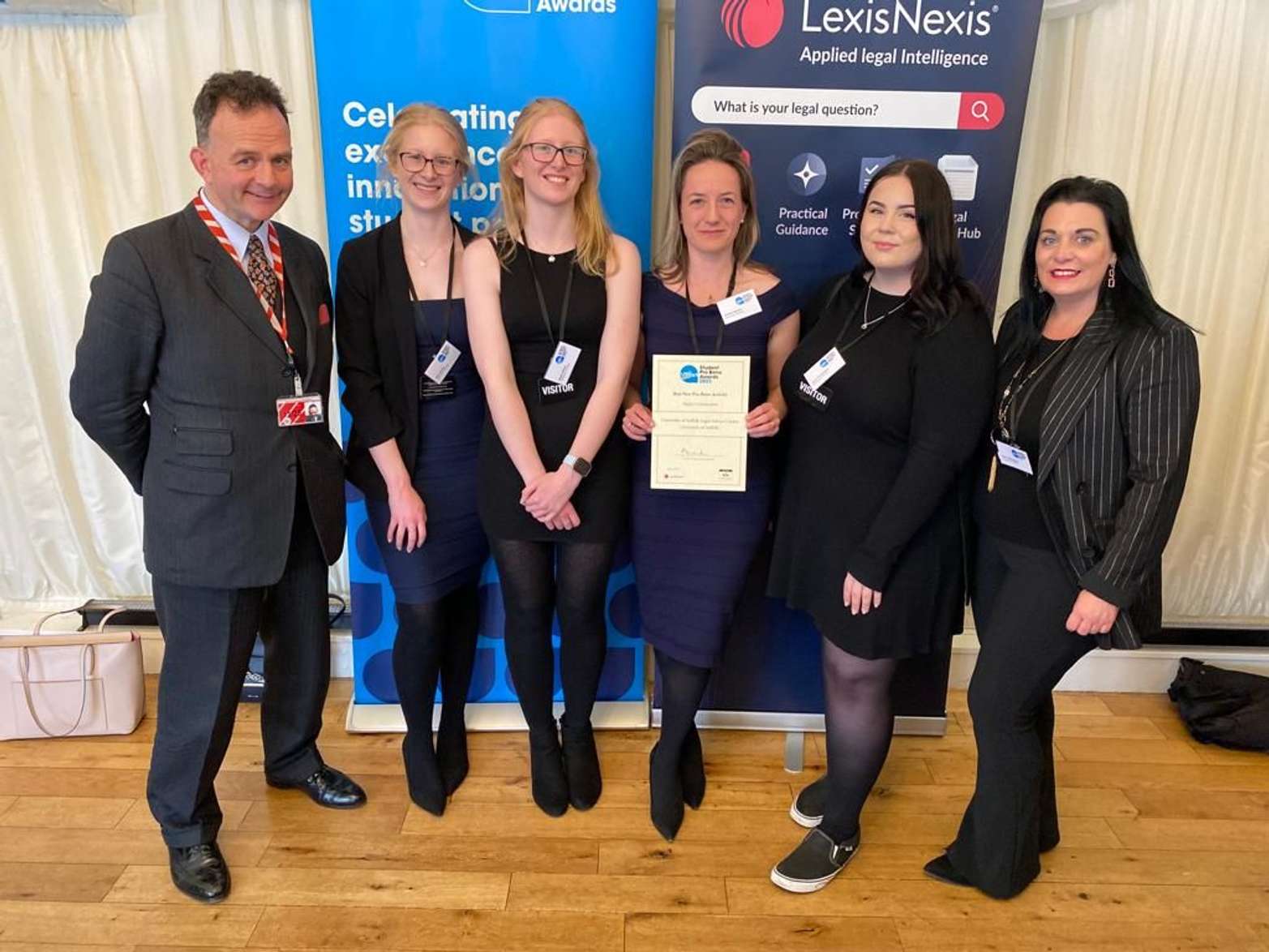 The University of Suffolk Legal Advice Centre has been highly commended for best new pro bono activity at the LawWorks and Attorney General Student Pro Bono Awards in April, held at the House of Lords, Pavilion Terrace.
The Legal Advice Centre is a collaborative project by staff and students, which Director, Eleanor Scarlett began in November 2021 with the creation of a Steering and Planning Group, set up to devise, plan, implement and launch the clinic.
A key part of the planning process was to ensure that law students at the University of Suffolk had a prominent role in the Clinic's development including selecting the areas of law in which the clinic would operate, setting out how those services would be delivered and building partnerships within the community.
Staff and students chose to focus on family law and advice to new businesses.
Since launching just over a year ago, the centre has advised over 40 clients producing detailed letters of advice on family law issues, including divorce, child arrangements, co-habitation, trusts, non-molestation orders, occupation orders, financial remedies and consent orders.
In addition, advice has been given to 7 new businesses on a variety of issues including company structure, franchise agreements, intellectual property and terms and conditions of sale.
Legal Advice Centre Director, Eleanor Scarlett said: "Our students have shown great commitment from the outset in establishing our Legal Advice Centre, working with staff to plan and develop our operations, presenting at our launch event, developing partnerships with our stakeholders and of course advising clients.
"It has been an opportunity for students to put what they learn in the classroom into practice, whilst also improving access to justice and supporting the community."
Several charities and organisations have praised the work of the centre.
Ipswich charity, Anglia Care Trust, which supports people in a number of ways including health and wellbeing and safety, described the Legal Advice Centre as: "A constant, reliable resource which has been invaluable to the people we support."
A spokesman for the charity said: "It is a fast effective cost-free solution that we can offer to service users with low incomes and in situations where legal advice is paramount to improving safety for victims and their families."
A spokesman for Ormiston Families, a charity supporting the wellbeing of families locally, said: "I sing the praises of the Legal Advice Centre, Eleanor Scarlett and the students daily to other professionals, prisoners and their families too.
"They are on hand to support me with any general questions and advice which has strengthened the service that Ormiston Families offer at HMP Hollesley Bay.
I am so grateful for their continued time and support."